Women in Hospitality: A Musician Turned Wine Director's 42-year Journey
Astrid Young is a 42-year veteran of the hospitality business. After starting out as a side-gig as a musician in hospitality, Astrid Young found a rewarding career in the restaurant industry. 
From neighborhood bars to five-star hotels, Young's journey eventually led her to the high-end world of wine. Young, now Wine Director at Young's Cellar in 2022. Merrill HouseA historic and well-known boutique hotel located in Prince Edward County Canada. 
We sat down with Young to discuss her successful journey in hospitality, her key role in Merrill House's digital transformation and how she uses Small Biz Sense's technology to optimize a growing boutique hotel. 
Are you looking for a brand new POS system?
In today's competitive hospitality landscape, you need tools that support your business as it grows. These 11 questions will help you choose the best POS system for your restaurant.
To wine connoisseur from touring musician  
Young: I've been in this business for more than 40 years now. After graduating high school, I was hired in my first bartending position in 1979. I then worked in several restaurants. I'm actually 
originally a touring musician and it's not unusual for musicians and actors to have jobs in hospitality. It's kind of a rite of passage in a way. You might only stay for a short time. So of course, it's never anybody's intention to stay in hospitality for that long. I've worked in so many different places. I've worked in neighborhood bars, nightclubs, mud wrestling places, strip joints, five star hotels. You name it, I've worked there, as a bartender or as a manager.
When I first became interested in wine, I turned to sommelier training in the late nineties. Three sommelier certificates have given me an entirely new perspective on the role of hospitality. This certification has reenergized my spirit in many different ways. 
I've worked for some of the smartest people in the business. I've seen everything that you can do right and everything that you can do wrong. For the past 20 years or so, I've been a consultant. Basically my role is that places hire me to figure out where they're losing money. My first task is to take inventory of their beverage programs. I'll take a look at their costing, their sales, I redesign their wine and beverage program. Also, I work closely with the chef to retrain staff members and put into place systems that make the restaurant more profitable. That's been my role and I've worked for many, many places over the past few years.
Finding her place in Ontario's wine country 
Young: Prince Edward County is an agricultural area and they didn't have a lot of tourism there. And then in 2004-2005 it started really picking up because we're in the middle of a wine region. Actually, it's Canada's newest designated viticultural area. Officially designated in 2007, the area's first vines were planted there in the early 90s. In 2001 there were just four wineries in the area. Now there's 52. It's grown considerably. In that period we've basically doubled the population in the area. The problem we faced initially was that people were coming from all over the world, and there wasn't enough space to accommodate them. 
When I moved to Prince Edward County at the beginning there wasn't really a lot of wine to be had and the quality was kind of so so. For a time, the prices were very high but they started to fall. As the value of wine started rising, so did its quality. People began to be interested. The county's wine was now the only thing sold in all of the county restaurants. There really wasn't a place for me. I've worked with almost every restaurant in the county up until a few years ago, and I finally just hit a ceiling and I thought, "I've had enough." I couldn't work on the floor in restaurants anymore, and that was when I figured, "Okay, I'm done. I've had my time." 
Merrill House – A fresh journey
Two blocks away was the Merrill House. The owners of the Merrill House were close friends and were searching for someone who could just sit down at the desk for an hour. For a few hours each day, I would come into the office to update their websites, blog, and manage their phones. And that's it. This was very, very simple. I told them straight out, "I do not want to work in the restaurant. I have no interest in that."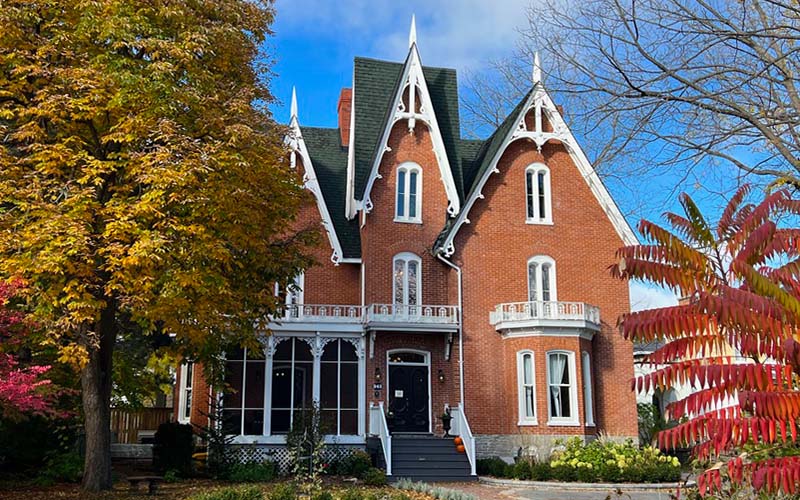 Merrill House had been on the market for a couple of years and it hadn't really sold until the current owner came along. Jordan and his family bought the place, and during the transition, Jordan asked the previous owner, "I'm looking for a sommelier. Do you know anybody?" And he said, "Well, Astrid is the sommelier, but I don't think she's interested, but there's no harm in asking." We went out to lunch and Jordan said the magic words to me and I said, "Okay." I decided I was going to approach this with an open mind. And he said, "Well, I would like to double the wine list by the end of the month." And I said, "I can do that. I can totally do that." So that's what started our relationship and we really connected on a lot of levels, both personally and philosophically. 
Taking Prince Edward County's fine dining to the next level 
Young: [Jordan's]Vision was ambitious considering the current state of the county, which was exciting to me. You've got a lot of people that are Really entrenched in the wine and culinary community there and the tourism community, and he really wanted to take the service level up not just a notch, but a number of notches. He wanted to be the top fine dining—like realFine dining is not what most people refer to as fine dining. And everybody was telling him, "Oh, that'll never work. Nobody's going to pay for it. We haven't got the financial blah blah blah." And I saw some merit in it. I thought, there's nothing like that here. We need it, I believe. I'm never averse to taking risks.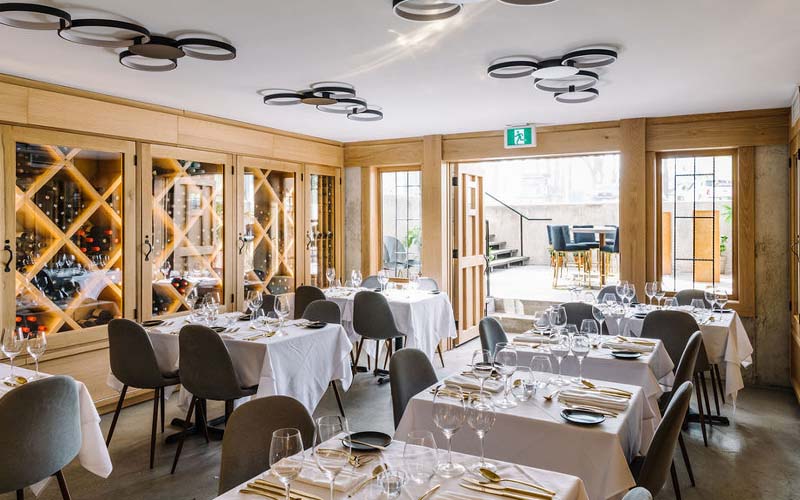 I dove in with both feet and we haven't really looked back. That was three almost four years ago now, and it's just going up. It's pretty remarkable. When I look at the sales at the end of the year, it's just mind blowing. We haven't actually had a full year open because of the lockdowns and renovations. Despite being closed for short periods, our sales were higher than the previous three years. For me, and everyone else, this was quite an eye opener. And it's just like, "this is working." This is great and we're the only ones that are really doing it. Now we've got a little company in the space. It's nice to have some other businesses that are kind of like in the same "club". It's been a real evolution and we are just committed to constant improvement and we're always looking for ways to do better and get better.
A digital revolution is underway
Young:Merrill House, a boutique hotel that has 13 rooms and restaurants was purchased by the current owner in 2018. The building is Gothic in architecture, and looks a lot like a gingerbread home. It was constructed for Prince Edward County's inaugural magistrate. It was built for him as a residence. Since then, it's been a residence, it's been a rooming house, it's been apartments, it was even an old age home at one point. And then I think in the mid to late seventies, the family bought it and they turned it into a country inn, and the B&B kind of evolved into that. It's gone through many phases. 
Since I had been working there previously for a few years and the chef's been there since 2001, we're the legacy employees in this situation. He wanted to help the digital transformation of the business when he became the owner. 
We had many upgrades, and wanted to make our booking engines and technology more modern in the 21st century. Silverware was the system we were currently using, however it was an independent one. It wasn't connected, and we weren't using it for processing or anything terribly useful. The older version was more expensive than the overpriced online cash register. It was not up-to-date or upgraded. 
The company was looking for new solutions. restaurant POS system. Naturally, we needed something new and, ideally, it should be possible to connect to other hotel systems such as our booking engine. This was one reason we selected it. Small Biz SenseBecause it was integrated with Cloudbeds, our main booking engine. That's why we brought it on board. 
Small Biz Sense Restaurant POS: Enjoy the Fullest
Young: It was interesting because I'd worked with many POS systems being a consultant and being responsible for opening and revamping restaurants, especially where technology is concerned. I've been doing that for the better part of 30 years, and I've never worked with Small Biz Sense before. It is a retail POS. I was aware of its use by a number of local organizations. It was easy to navigate it, and see what it could do. 
My experience shows that the majority of places only use 10% to 15% of their POS systems' capacity. It's my favorite way to get into the details and find out how it can be made more efficient and derived maximum value. And honestly, still, to this day, I'm finding out things about Small Biz Sense that, you know, the light bulb goes on and it's so cool that you can do things so easily. They're intuitive to the point where it occurs to me that it must be somebody else in my business who's thinking of these things. Often you get systems that will do what you want it to do, but you have to go through so many layers to get it to work and it's not automated and it's not intuitive, and it doesn't follow any kind of logical workflow. Small Biz Sense takes these factors into consideration. That is what I love most about it. I feel like Small Biz Sense was designed by people in my field, which is what makes me happy.
Finding essential features
Excellent customer service. It is great that your team is so dedicated to customer success. It is amazing to be able call someone when you need me and have them follow up with bug fixes, feature requests, and other issues. This was something I've never seen in any of my previous POS experience.
We chose this company because of one thing: [Small Biz Sense]The best part is the integration with our booking engine. We can then charge restaurants charges to your room folio. That's very convenient. It's really important for people to be able to do things quickly and to be able to accomplish my reporting goals as well—to be able to see the numbers that I need to see. We value the ability to integrate and make it easy. 
Empowerment in the hospitality sector 
Young:The industry has changed significantly in recent years, and I can see that. There's a kind of historic misogyny in the hospitality business and a lot of that's coming to light, which is great. I've worked in high-volume restaurants before and it is pretty intense. Women are empowered, and that extends to the winery. You're seeing a lot more female winemakers rising to great prominence and female chefs. Many female chefs are well-respected in my county.
I think there's been a really strong movement to recognize the women in the industry and recognize how influential they are to our culture. And I think that's been long overdue. Some of the best management that I've worked with have been female. Some of the people that I've worked with that I've learned the most from are not necessarily my age either. Some of my mentors are older than me, but they're just as dynamic, smart, and intuitive. Strong women are a great inspiration to me in this field. I don't know if it's any harder than the corporate world, but I think you're working with a lot of egos in both scenarios. It takes a lot of strength and resilience to be able to stand up to that and say, "I have an opinion and my thoughts and my ideas are valid." I've never been afraid to stand up and speak my mind. 
Merrill House is positioned for growth in the future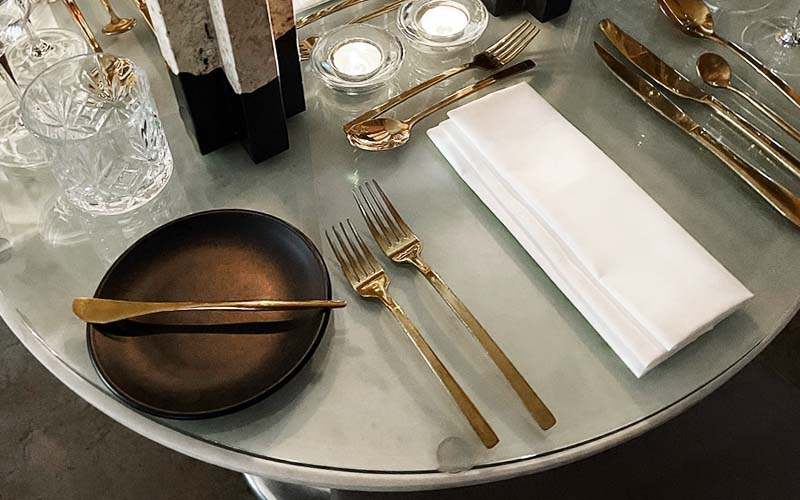 Young: We're always looking for ways to improve. Jordan has expressed an interest in expanding. We've got quite a large property and the vision is to build a standalone restaurant on the back part of the property that would expand our capabilities to seat people. We'd like to have a 40 to 60 seat restaurant in the back and then just use the current restaurant that we have as a wine cellar for private dining and things like that—like a chef's table. That's the vision. I don't know the timelines, but that's where we're going.
Do you want to expand your hospitality company?Ask one of our expertsFind out more about how Small Biz Sense could grow alongside you. 
[ad_2]