What are the Front of House Positions in a Restaurant?
Every successful restaurant needs a top-notch front of house restaurant staff to ensure that everything is running smoothly, and customers are completely satisfied from the moment they walk through the door. Your restaurant's front of house team should be composed of workers with a variety of skills and talents, so finding the best person for each of these front of house positions is absolutely crucial for overall success. 
In addition to technical skills like being able to work the restaurant POS, front of house restaurant staffers should be friendly, outgoing, customer service-oriented and able to handle situations on the fly. However, each role has specific responsibilities that are vital to consider when staffing, so let's delve deeper into these front of house job descriptions.
In this article we'll cover:
Restaurant Employee Handbook Template
Standardize your restaurant's policies, guidelines and processes with your custom restaurant employee handbook.
Standard front-of-house positions in a restaurant
The owner
Not only is the owner the person who makes all of the financial and business decisions for the restaurant, but they're also typically the one who creates the restaurant's brand and has a hand in setting it up from the start. Because of their high level of involvement in the business, the owner takes on all legal responsibility for the restaurant as well.
Qualifications: While a particular education level isn't needed to open a business, a Bachelor's Degree in business, culinary arts, hospitality or management or relevant industry experience is extremely helpful. New owners should be prepared to work long hours, be educated on legal issues, worker safety, and customer protection, and have great leadership, organizational, problem-solving, communication and customer service skills.
General manager 
It is likely that the owner will not be available to handle the restaurant's day-to-day operations, so a general manager is hired to be their voice and act as a liaison between them and the rest of the staff. The daily tasks of the general manager include:
Delegating roles and tasks among staff

Creating schedules for staff members

Determining rules for the staff to follow

Hiring and firing staff

Training new staff

Establishing good customer service protocol

Making administrative decisions

Setting up business technology

Creating a good restaurant flow

Maintaining clear communication between the back and front of house staff

Overseeing front of house guest services

Ensuring the ideal guest experience

Reporting progress and issues back to the restaurant owner
Qualifications: Most restaurateurs will want to hire GMs with at least a Bachelor's Degree in hospitality, business or management who also have 5-10 years of experience in the industry. GMs should have expert-level knowledge of driving sales and meeting goals, as well as top-notch customer service and interpersonal skills.
Shift manager 
Because many restaurants are open long hours, it may be impossible for the general manager to be there at all times. This is where a shift manager comes in to take on some of those managerial responsibilities and alleviate some of the pressure. Their tasks include:
Supervising front of the house operations

Making sure that restaurant staff are successfully accomplishing their tasks

Appointing staff roles

Handling staff complaints

Assisting with any guest complaints

Training staff

Reporting back to the general manager
Qualifications: A shift manager should have a minimum of a high school education or equivalent, accompanied by industry and managerial experience. Like the general manager, their interpersonal and customer service skills need to be outstanding and they should be goal-driven. They should also be comfortable with pulling double duty and be able to help out the rest of the staff during peak hours.
Host 
Often the first point of contact for guests, the host maintains an important role in establishing guests' needs and expectations and then conveying that information to their server. The host is also responsible for:
Setting up guests' reservations

Organizing seating charts

Accommodating guests as they wait to be seated

Seating guests as tables become available

Making sure that servers are aware of guests' allergies or food restrictions

Letting servers know if their guests are celebrating a special occasion, such as a birthday or anniversary
Qualifications: Since they are the first point of contact for guests, a host should be high energy, have great people and communication skills, be organized and have an attention to detail. This is one of the more entry-level front of house (FOH) positions, so it's a great option for anyone trying to break into the restaurant industry.
Servers 
Arguably the most visible staff members in a restaurant, servers are responsible for ensuring the satisfaction of all guests. Many restaurants assign each server a station to help things run smoothly, and their tasks include:
Taking guests' food and drink orders

Ensuring that water glasses are always filled

Providing guests with insights on the menu or daily specials

Setting up the dining room prior to service

Acting as the liaison between the guests and the kitchen

Processing bills after the meal has concluded
Qualifications: Because of their extensive face time with the guests, servers need to be friendly, accommodating and have great customer service skills. Since many full-service restaurants prefer to hire servers with some industry experience, many new servers will start out as hosts, bussers, dishwashers or working in a quick service or other food-related business.
Busser 
Sometimes, servers may act as their own bussers. However, particularly in fine dining establishments, bussers hold a separate role to assist the server and help them dedicate maximum attention to the guests. A busser's tasks include:
Serving dishes

Filling water glasses

Clearing tables throughout the meal

Cleaning tables after guests leave

Ensuring that stations are clean and organized for the staff's use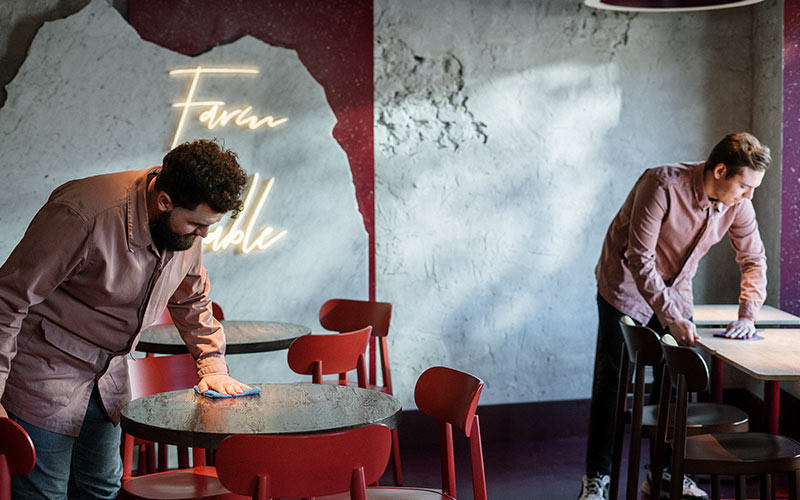 Qualifications: Being a busser is another entry-level position and a great way for new workers to enter the industry. They should have great attention to detail and be able to move quickly to clear the tables for servers and guests. They should also be good communicators and multi-taskers, as they may be asked to run food and attend to a variety of customer needs.
Bartender 
Bartenders are primarily responsible for the upkeep of their space behind the bar and are expected to have knowledge of wines, spirits and certainly any drink specials that the restaurant offers. A bartender's tasks include:
Set up the bar at the beginning of their shift

Serve drinks to guests seated at the bar

Make drinks for servers to bring to tables

Ensure that the bar is clean and tidy throughout

Shut down the bar at the end of the night
Qualifications: Bartenders should have a high level of knowledge in beer, wine and cocktails, whether the knowledge comes from work experience or a bartending training program. Additionally, they need to have the same customer-facing skills that servers have, especially if food is served at the bar. A bartender should always be hyper-aware of their guests and their intoxication levels and have the communication and problem-solving skills necessary to keep guests safe.
Bar manager 
While some restaurants have both a bar manager and a sommelier, some may combine these two roles into one.
A bar manager shares the same responsibilities as bartenders in addition to the following:
Overseeing the bar staff

Maintaining bar staff schedule

Training staff

Regulating the bar inventory

Purchasing drink ingredients, including alcohol, mixers and garnishes

Crafting new drink recipes

Keeping the bar menu up-to-date

Updating the bar POS system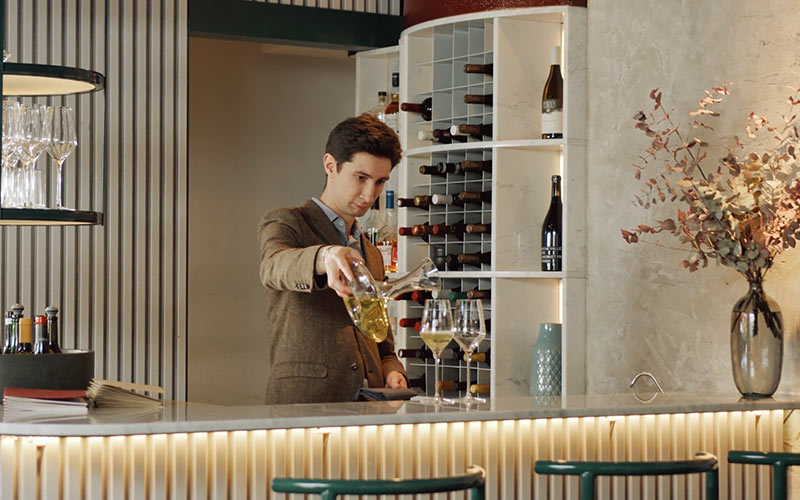 Qualifications: Bar managers should have experience in the industry, preferably behind the bar. A great bar manager will have business management, inventory and accounting skills, the ability to delegate tasks, and great conflict-resolution, communication and interpersonal skills. While not necessary, a higher education degree in management, business or hospitality is generally preferred.
Additional front of house positions in a restaurant
While most of the FOH positions above can be found in the majority of restaurants, there are other roles that will only exist in certain kinds of establishments. Some involve aspects of fine dining, while others support an event or catering side of the business.  
Sommelier
A sommelier is responsible primarily for the restaurant's wine list. They have earned their title from studying wine at an academic level so their taste is to be respected as they craft a wine list that perfectly complements the restaurant's dishes. They are also on hand to offer wine recommendations to guests.
Banquet and private events coordinator 
When special events are held at the restaurant—or VIP guests are in attendance—a banquet and private events coordinator is necessary to make sure everything runs seamlessly from start to finish. They are the guest's first point of contact and will take in all of the guest's special requests for their visit. The banquet and private events coordinator also coordinates with the general manager and head chef to ensure that the event is executed perfectly and feedback is well received.
Catering coordinator 
Some restaurants may choose to also operate off-site catering services, in which a catering coordinator is most definitely useful. They will connect with guests, plan and organize the event with them and then ultimately execute the event flawlessly. When the catering is complete, the coordinator will take in all feedback and implement it for future success. This role can also include marketing the restaurant's catering service, in particular, with the hopes of drumming up more business.
If you're an owner getting ready to ramp up your hiring, be sure to consider the unique attributes that each restaurant front of house position requires. 
Looking for a technology partner to help you and your staff streamline operations? Learn more about how Lightspeed can help.
[ad_2]