The Ultimate Cafe Opening Checklist
Everybody loves cafes, students included. Starbucks gets all of the attention. But, Starbucks can't compete with a mom-and-pop cafe that serves breakfast and lunch.
A plan that includes all the elements necessary to make your cafe popular and profitable is impossible without good accounting and a well-designed cafe POS system. Even a simple checklist for cafes can make a big difference.
Do you want to create a cafe with 5-star ratings?
You can find out how to build an all-star restaurant team with the Small Biz Sense guide.
A 10-step guide to opening a café
Plan your business

Select a location

Focus on coffee & tea

Don't forget the rest of the menu

Obtain all permits & licenses

Purchase equipment

Hiring employees

Pick the perfect cafe POS software

Establish a marketing plan

Seek expert advice
1. Plan your business
You must start with a plan. Whether it's to woo investors or just to help you prioritize and determine what you're going to do, a business plan is crucial to the success of any commercial venture. This is true even if reality turns out to be very different.
2. Select a location
High rents are paid by stores in bustling downtown areas because of the higher foot traffic. Consider other important factors, such as whether the storefront is located in a central location and is easily accessible from other shops or restaurants. You also need to determine if there is enough rent to cover the cost of these amenities.
3. Concentrate on tea and coffee
Coffee and tea are the lifeblood of any cafe, and Americans are increasingly discerning, so it's important to establish a Solid supply chain. Decide on the different varieties of coffee and tea you'll sell to ensure your cafe stands out. Coffee beans and tea of high quality are more expensive, but they can draw coffee and tea lovers from faraway places.
4. Don't forget the rest of the menu
Cafés often offer light meals such as sandwiches, soups and bagels. It's important to keep it simple. Get feedback from customers before you open. Make sure that the menu represents your company and your culture.
5. All permits and licenses must be obtained
A cafe needs state food or beverage licenses in addition to local permits which can be quite easy to get. State licenses can be considerably more difficult to obtain in some states than others, so start the application process as soon as you've registered your business.
6. Purchase equipment
A cafe won't get far without the right equipment. Some of the hardware you'll need includes:
Cafe POS and cash register

French presses

Coffee makers with drip coffee

Industrial coffee grinders

Freezers and refrigerators

Ovens/toasters/other kitchen devices

Industrial blenders

Security system

Systems for storage and shelving
These items can become very expensive so it is worth looking for used options.
7. Hiring employees
Experience is not as important as being a reliable individual with an outgoing personality. Coffee-making skills can be taught—a bad attitude or taciturn personality is much harder to modify. A passion for and knowledge of coffee is an advantage. You can find cooks or baristas in restaurant-specific job boards.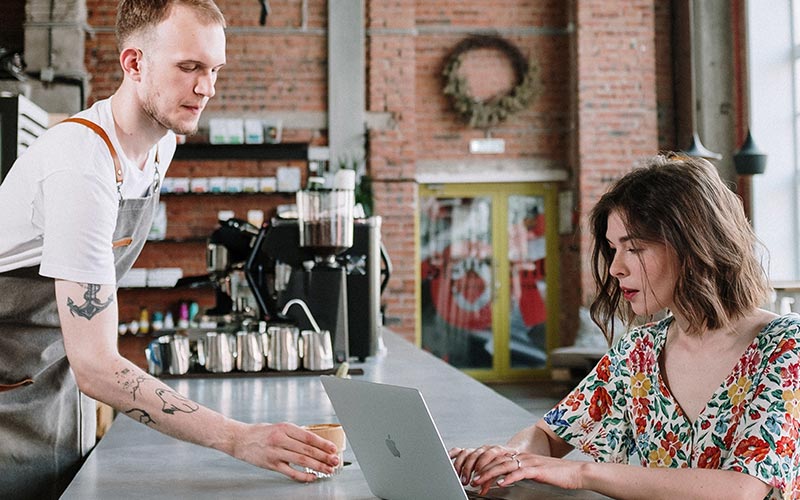 8. Choose a smart cafe POS system
High quality cafe POS systems can be trusted, they are able to handle outages and allow for fast checkouts. The Best include comprehensive data-driven insights for a bird's-eye view of how to improve your business operations.
9. Establish a marketing plan
Marketing should start before the cafe even opens. There's plenty of ways you can do it, such as:
Publicize your grand opening to local newspapers and magazines

Send a press release to announce your opening date

Free samples and coupons for one

You can start a loyalty program you can manage through your POS system

Reach out to local influencers on Instagram and food blogs for more exposure

How to create a social media marketing plan

Display eye-catching signs
10. Seek expert advice
If everything fails or you don't have any other options, the best thing to do is get help from others who have started their own coffee shop.
We listened to their top tips for opening a cafe.
Fahmi Elabed owns Piccolo Trattoria in Philadelphia. He says it's important to have a staff that works together, first and foremost.
"Have FOH and BOH work as a team," he says. "Make sure you have a restaurant mission and a culture so you can create raving fans!"
"And listen to customers, especially those that point out something wrong."
Billy Brophy agrees and adds that it's important to have a restaurant mission statement for your cafe. You will have your overall vision once you've written it down. "Every decision from there should be filtered through [the mission statement]. Then, plan how the business will help you live the lifestyle you want to have, who your target customers are and how it will differentiate itself from the competition."
Daniel Steyskal explains how crucial it is to pay attention to customers. "Do your research, does the area want this style cafe? And listen to customers, especially those that point out something wrong."
"Too many owners surround themselves with people saying everything is great," he says, and as a result, they may fail to see how the cafe isn't performing.
Hank Dreyer, who has worked in the restaurant sector for 35+ years, owns quite a few restaurants. He says it's more important than anything to have an exit strategy. "You must have something in place to exit the business. Are you going to one day simply close the doors?"
He says it is unlikely. "Have a goal to retire or sell. Is it enough to put forth 400K, get 1.4 and walk away with one million dollars? These are the questions you need to ask before opening doors. That's the kind of goal you'll want to work for," he says.
"Hire personalities," says Rocco John Giuliano, a restaurateur with over 20 years of experience. "Infectious personalities! Smiles are the most important part of your staff's uniform."
If you're still wondering how to open a cafe, we'll leave you with this final piece of advice from Steyskal, "Put salt in the coffee," he says, "[it's the] dirty secret every major coffee place uses."
Are you looking for technology partners that will help your business grow? Get in touch with one of our experts to learn more about Small Biz Sense.
[ad_2]