Everything Retailers Need to Know about Buy Now, Pay Later
In 2015, a new way to pay swept eCommerce. Called buy now, pay later (shortened to BNPL), it was defined by payments in four installments, with little to no interest and minimal credit checks. As BNPL services launched across Australia, Europe and North America, this new way to balance a budget caught the eyes of millennial and Gen Z shoppers. 
And then the pandemic happened, and the ability for customers to pay later—now even more flexible, with some payment terms expanding beyond pay in four—really took off. 
"Buy Now, Pay Later is seeing a massive rise in demand from shoppers, fueled by a pandemic pushing consumers towards online shopping and new budgeting tools," says Sezzle, a popular buy now, pay later service provider. "In a Sezzle user survey during the height of COVID, over 80% of Sezzle users said they would rely more on Sezzle this holiday season."
With its popularity and continuing growth, BNPL is a must-have for retailers selling online, especially during the 2021 holiday season. In this article, we'll review what you need to know about adding buy now, pay later to your store:
Holiday Trends Report 2021: What SMB Retailers Need To Know
In our free report, get to know this year's top trends, what customers want in 2021 and what you can do about it.
What is buy now, pay later?
Buy now, pay later, really, is exactly what it sounds like: a way for shoppers to buy their goods now and pay them off later. It's a short-term financing option where shoppers agree to pay for their purchase in installments after a downpayment (typically 25%). 
BNPL generally promises no interest and, depending on the service provider, no late fees with minimal to no credit checks. However, payment plans above the typical pay-in-four installments can charge interest, and some BNPL providers do charge fees for missed payments or renegotiating installments.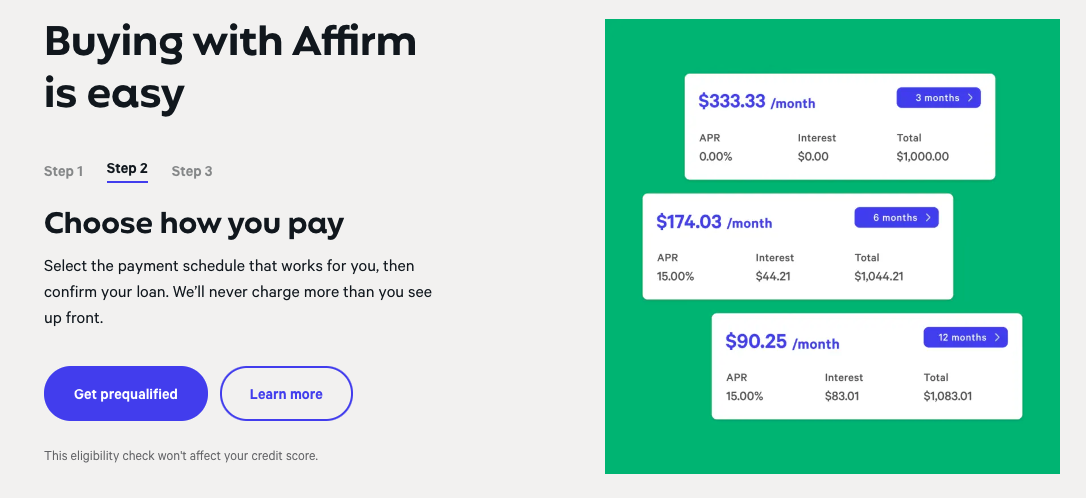 BNPL is primarily used for online shopping, and is now available for a wide range of products and price points. Retailers selling $900 leather coats offer it, and retailers selling $20 fitness aids offer it. Online shoppers are coming to expect an option to buy now and pay later everywhere they shop online.
While shoppers of all ages use buy now, pay later, it's particularly popular with millennials and Gen Z. In 2019, just 6% of American Gen Z shoppers were using BNPL. By 2021, 36% were paying for their online purchases with BNPL. American Millennials are even bigger fans: 41% have used buy now, pay later in 2021. Gen X and older are also on board, though BNPL reigns supreme with younger shoppers.
There are different buy now, pay later service providers out there, and they all have their own quirks. Overall, though, here's how the service works:
An online shopper heads to checkout with a cart full of goods that are eligible for buy now, pay later

After a quick eligibility check—if the BNPL provider does them, as not all do—the shopper is approved

They opt to pay for their purchase in four or more installments and pay a downpayment

The retailer ships the shopper their purchase

The shoppers makes payments to the BNPL service provider
Are there buy now, pay later alternatives?
Buy now, pay later isn't an entirely new concept. The basic principle behind it—pay in installments, not all at once—has been around for decades. Installment lending was the most popular way of paying off purchases prior to 1977, and BNPL is an updated take on that.
Alternatives exist in the form of payment management methods shoppers have been using for years. The vast majority of retailers offer at least one of them—credit cards are ubiquitous with shopping—but there are good reasons why buy now, pay later has taken off and is now vital for online retail. 
Let's examine the alternatives to demonstrate why.
BNPL vs point of sale financing
Technically, all buy now, pay later is point of sale financing, but not all point of sale financing is BNPL.
Point of sale financing that isn't BNPL is still offered at the same stage—as shoppers are paying—and involves payment installments. Like BNPL, customers receive their items right away. 
It generally involves interest, though there may be interest-free periods, and payments take place over a year or more. Typically, big ticket items such as appliances and furniture are eligible, and clothing and smaller personal goods retailers are less likely to offer it.
Compared to BNPL, point of sale financing is less flexible and more expensive—because of the interest charges—and requires credit checks more often. Shoppers are less likely to encounter it because of the narrow application. 
BNPL vs layaway
Layaway payments were first used in the 1930s to help shoppers stretch budgets impacted by the Great Depression. Shoppers agree to payment terms and make payments in installments while the retailer stores the item until it's fully paid off. 
While popular for decades, Layaways were eventually usurped by credit cards. They've seen a slight comeback in popularity in the last decade, as their no-interest terms offer an alternative to credit card debt.
Because shoppers only receive their items after they've paid off the purchase in full, BNPL presents a more attractive low-to-no interest alternative to layaways. Buy now, play later plans are also typically less strict about late payments.
BNPL vs credit cards
Credit cards are the most common alternative to buy now, pay later—in fact, they're the most common way to pay over everything else. Like BNPL, shoppers receive their purchases right away and pay off the owed balance over a period of time instead of all at once. Unlike BNPL, shoppers have credit limits and are subject to higher interest if they don't pay off their entire balance. 
Credit cards are unlikely to lose their importance any time soon. Buy now, pay later plans, with their fixed payment installments, are less flexible than credit cards. As long as shoppers pay their monthly minimum, they can take as much time as they need to pay off a purchase. But the higher interest rates makes credit card debt hard to manage compared to BNPL plans.
BNPL gives shoppers a way to manage their budgets while avoiding excess credit card debt. Over half of BNPL users prefer it to credit cards, and 38% expect it to replace their credit card eventually.
How does buy now, pay later work for retailers?
Let's extend the credit card comparison briefly. To take credit card payments, retailers sign a contract with a payment processor. They take payments from shoppers, but the processor does the actual work managing the payment. 
Buy now, pay later works similarly. A retailer integrates a BNPL tool into their online store so that it's accessible at checkout, and the service provider manages the payment. Like with a payment processor, the retailer pays a fee to the service provider.
When will I get paid with buy now, pay later?
While shoppers pay for their purchases in four (or more) installments, the retailers they're doing business with get paid in full sooner, typically within three business days. This is because the BNPL service provider pays the retailer, and then the shopper pays the service provider back the money they were loaned. 
Essentially, retailers get paid in full almost right away, minus any fees for using the platform. At no point will the retailer be responsible for managing payment plans. 
What buy now, pay later fees do retailers pay?
Fees vary between service providers and agreements with retailers, but start at a similar average. Sezzle, for example, charges 6% + $0.30 per transaction, but that rate can differ based on industry, retailer risk and business size.
While that fee structure is higher than credit card fees, it's important to keep in mind just how popular BNPL is. BNPL can increase conversion rates up to 30%, and grow the average transaction size up to 50%. Retailers have a chance to do more business paying the BNPL fees than if they opted against implementing buy now, pay later.
How can I offer buy now, pay later in my online store?
To start offering buy now, pay later, retailers need:
As long as the eCommerce platform and BNPL integration work together, retailers are good to go. They only need to sign a deal with their chosen BNPL service provider and install the integration according to their platform's instructions.
Lightspeed eCom retailers, for example, can integrate BNPL into their store by heading to the Lightspeed eCom app store and hitting install on the service provider they've signed up with, such as: 
Sezzle:

Sezzle allows shoppers to split their purchases (up to $1000) into four equal payments collected every two weeks. Shoppers using Sezzle Up can even begin to build good credit through the service, making it an attractive BNPL option that helps retailers increase conversions.
Affirm:

Affirm's installment plans are free from compound interest and allow shoppers to choose how quickly they'd like to pay off their purchase. Retailers can offer flexibility in exchange for an average of 10% revenue growth per site visitor.
PayBright:

PayBright is a BNPL tool available for Canadian retailers. Shoppers can pay back their purchases in 6, 12 or 24 months with virtual credit accounts that can be used for multiple transactions, increasing the likelihood of repeat purchases.
Your customers are looking for buy now, pay later options
The buy now, pay later trend isn't slowing down any time soon. In exchange for better control over their budgets, shoppers have been giving retailers more frequent conversions with higher average order sizes.
With the holidays coming up, shoppers are using BNPL to get their gifts. If you haven't integrated buy now, pay later into your website, now's the time to get started. 
Want to talk to someone about how you can offer BNPL and other features shoppers love? Get in touch with one of our experts.
[ad_2]